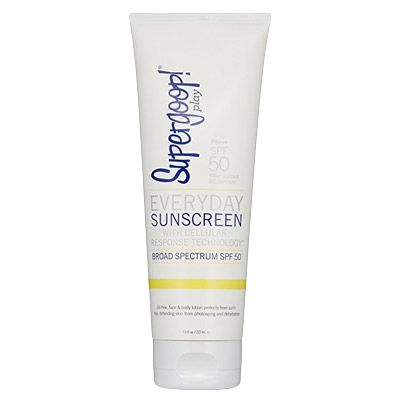 Nourish your skin with antioxidants and fight the signs of aging with this water-resistant, oil-free sunscreen for the face and body. With an SPF 50, this unique blend of sunscreen protects against the harmful effects of UVA, UVB, and IRA rays by using a potent antioxidant-rich Cellular Response Technology™, and delivers long-term moisture to the skin without the use of hyaluronic acid.
This cruelty-free product is formulated without parabens, sulfates, phthalates, oxybenzone or synthetic fragrances.
The natural extracts of lemon, orange, basil, and bois de rose provide a pleasant scent, unlike typical sunscreens, making Supergoop! SPF 50 Sunscreen an excellent alternative for an everyday sunscreen. It is ideal for all skin tones and skin types.