Thigh Lift
See dramatic improvements in the curve, tone and proportion of your thighs, with minimal scarring to conceal evidence of surgery.
Struggling to achieve firm, shapely thighs? Talk to Dr. Preminger about plastic surgery options.
Thigh lift in NYC
If you've accomplished the difficult task of losing a great deal of weight, you may find yourself faced with a final frustration. If your skin has limited elasticity, the skin will be loose and sagging because the underlying fat tissue is no longer there to support it. The excess skin is particularly obvious at the waistline, the upper arms, and the thighs – "curtains of skin" now covering the new, slimmer physique underneath.
For many, thigh lift surgery performed by Dr. Preminger at her Manhattan office is the final step in the process of extreme weight loss. A thigh lift removes the excess non-elastic skin and through a series of careful incisions, reshapes the thigh, tightens the remaining skin, and reveals the beautiful new contour of the thighs.
If someone does not have good skin elasticity and has tried to lose weight but has had little success through diet and exercise, a thigh lift combined with liposuction may be an alternative. Again, careful incisions are made through which excess fat tissue is removed with liposuction. Excess skin is then removed and tightened to contour the now slimmer thighs.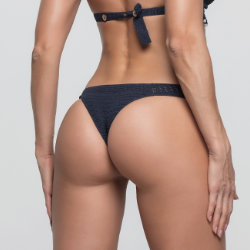 Preparing for thigh lift surgery
As with any surgical procedure, there needs to be clear communication between patient and surgeon on the patient's suitability for the procedure, his or her expectations, and a frank discussion of the risks and complications of thigh lift surgery.
Thigh lift procedures are generally suited to patients who have a fairly consistent body weight profile, do not have a history of surgical complications from anesthesia or poor healing, and do not smoke.
Due to either voluntary or involuntary weight loss, ideal candidates have excess soft or sagging skin along the inner or outer thighs. He or she will also have realistic expectations of what thigh lift surgery can do.
Expect a tightening of the skin and re-contouring of the thighs proportional to the rest of the body through a series of relatively unobtrusive incisions.
Complications, though uncommon in the hands of a qualified plastic surgeon, may include infection, unattractive scarring, persistent pain, uncomfortable skin sensations, fluid accumulation, and possible asymmetrical and/or unequal thigh measurements.
Dr. Preminger will take each of her patients patiently through all aspects of the procedure, including costs, so that you can make a reasoned and fully informed decision as to whether the procedure is right for you.
Results you can't achieve through diet and exercise alone
Some swelling and bruising will remain shortly after surgery, but you will clearly be able to experience the smoother, tighter contouring of the thighs fairly quickly. All that remains are periodic follow up visits with Dr. Preminger to make sure your thigh lift surgery and recovery are going according to plan.
If you'd like help determining if thigh lift surgery is appropriate for you, please call Dr. Preminger's NYC office at (212) 706-1900 or contact us online.