Rhinoplasty
Manhattan plastic surgeon Dr. Preminger favors a subtle approach to rhinoplasty, offering patients a natural looking result.
Thinking about having a nose job in NYC? Consult with leading plastic surgeon Dr. B. Aviva Preminger.
Nose surgery in New York
A skillfully performed nose job can have a positive impact on your overall appearance and self-esteem. Also known as rhinoplasty, nose surgery is popular among both sexes who are unhappy with a prominent nasal bump, asymmetry or breathing difficulties caused by a deviated septum or other obstructions.
Rhinoplasty can alter the width, angle and size of your nose, bringing it into better proportion with your facial features. Nose reshaping can help improve appearance and alleviate chronic congestion and breathing issues caused by structural problems.
Toward any of these goals, Dr. Preminger performs rhinoplasty in her convenient Manhattan office. Patients go home the same day to recover, and the results are permanent!
"A lot of people are actually unhappy with the appearance of their noses," says Dr. Preminger, "and the nose is one of the most prominent features on a person's face." She performs nose surgery to address a variety of patient complaints, such as:
Asymmetry of the nose, or crooked nose
A hump or bump on the upper part of the nose
Excess cartilage in the middle of the nose
A wide or boxy nasal tip
Over-large nostrils
Dr. Preminger reveals that, after a rhinoplasty or nose job, "Most people are back at work or their normal activities at about a week's time and very, very happy that they finally went through this, because most patients who are unhappy with the appearance of their noses have actually spent a lifetime feeling self-conscious about them, and wonder why they haven't done the procedure sooner."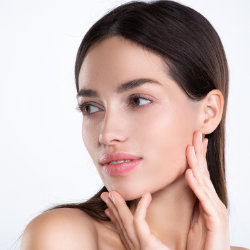 Preparing for nose surgery
During your initial rhinoplasty consultation, Dr. Preminger will discuss your motivations and expectations for nose surgery to determine if you're a good candidate. Rhinoplasty should only be performed after the nose has fully developed, which in women typically happens by age 15 or 16.
Men should wait to have nose surgery until they are at least 16 or 17. Those who want to correct a previous rhinoplasty or sports injury are encouraged to detail their concerns to Dr. Preminger. As with any surgical procedure, realistic expectations and good physical health are prerequisites. In addition to normal side effects like swelling and bruising, Dr. Preminger will explain other rhinoplasty risks.
Dr. Preminger is experienced in both primary and revision rhinoplasty, offering both procedures in her private Manhattan surgical suite. Whether a dorsal hump is being removed, the nasal tip refined, or flaring nostrils corrected, Dr. Preminger will take the necessary steps to ensure aesthetic balance is achieved.
Patients are usually given a general anesthetic, although twilight sedation may be suitable for minor surgeries involving only slight nose reshaping. Depending on the extent of the nose surgery, the entire operation may last from two to three hours.
Dr. Preminger makes incisions either inside the nostrils or across the columella – the tissue between the nostrils. Any noticeable humps are removed or brought down to create a more refined profile. Excess cartilage may be removed completely or used in tip sculpting and refinement.
If the septum is deviated, Dr. Preminger will straighten it with a septoplasty that can significantly improve breathing. During the procedure, malformed bone and cartilage is reshaped, sculpted or removed. This surgery will help alleviate persistent inflammation of the turbinates, resulting in unobstructed nasal airways. In "open" nose reshaping procedures, incisions are generally closed with dissolvable sutures.