Plastic Surgery after Weight Loss
After major weight loss, body contouring surgery sculpts and trims excess skin to reveal your body's new slim shape.
Are you a good candidate for plastic surgery after weight loss? Ask Dr. Preminger!
Plastic Surgery after Weight Loss in NYC
Significant weight loss is a major achievement for those who've been struggling with obesity. Dropping 100 pounds or more yields a dramatic physical transformation that also equates to better health, lower blood pressure, less joint pain and more energy. However, after attaining their desired weight loss, many men and women discover their slimmer frame needs some extra fine-tuning. With the exception of a few cases, massive weight loss leaves behind heavy folds of excess skin – a constant reminder of one's larger, former self.
Plastic surgery after significant weight loss helps to restore normal proportions by removing remaining loose skin. The most common areas of concern include the upper arms, belly, midsection, buttocks, back and thighs. Many women also complain of lost volume and significant drooping of their breasts.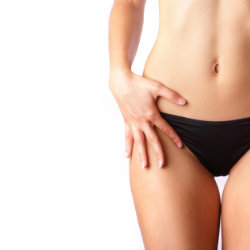 Benefits of plastic surgery after weight loss
While dramatic weight loss has many health benefits, the body's skin and underlying tissue lacks the elasticity to snap back after being stretched. When the skin's elastic fibers are damaged over many months and years, this can lead to permanent stretch marks as well as hanging folds of extra skin. Other factors such as lifestyle choices (sun exposure and smoking), genetics and age will also affect how much excess skin will be present after substantial weight loss.
The good news is whether you lost weight through bariatric surgery or diet and exercise, Dr. B. Aviva Preminger can help you achieve more toned, attractive contours that show off your new slender body.
As an experienced and highly trained NYC plastic surgeon, Dr. Preminger has safely and effectively managed the aesthetic and health concerns of her patients, delivering confidence-boosting results.
Recovery and maintaining results of body lift surgery after weight loss
Depending on the body contouring procedures performed, recovery time may range from one to three weeks. Dr. Preminger will outline all post-operative recommendations and when you can return to your normal activities. You will also be given detailed information about normal post-op swelling, pain and bruising, and potential complications to watch out for.
The results of your plastic surgery are permanent, barring rapid weight gain and pregnancy. A balanced diet, regular exercise and maintaining a stable weight can help ensure you enjoy your toned contours for years to come.
Interestingly, a study published in the journal Plastic and Reconstructive Surgery found that patients who had bariatric surgery for weight loss and later underwent body contouring to remove excess skin were less likely to gain the weight back compared to those who didn't have plastic surgery.
For more information about body contouring after weight loss, or to schedule a consultation with Dr. Preminger today, please call (212) 706-1900 or contact us online.
Video Transcription:
[Dr.Preminger] Losing weight is quite an accomplishment. No matter how you've lost that weight; whether through diet and exercise or one of the surgical procedures that are available today, you're unfortunately often left with a lot of excess hanging skin.
The most common areas involved are the arms, the belly, the thighs and often patients are left with breasts that have lost volume and drooped significantly. The breasts actually are really interesting part of this because many of these patients who've really lost a lot of weight, have lost a significant amount of breast volume and they don't necessarily want implants.
One of the amazing things that we as plastic surgeons can do today is something called auto augmentation which is using the extra hanging tissue that you have to fill out, restore volume and lift the breasts.
[Patient] I'd gone back and forth with my weight for years. Probably from the time I was 16 until I was 50 I had struggled with weight. I had gotten very, very heavy. I'd lost some weight. I gained it back with some interest. I lost some weight and just never gotten to anything that resembled a normal weight. Then one day I weighed the way I wanted to be and I kept on losing weight. And then suddenly I became kind of small. But as I became small, I also realized my skin was more than I needed.
[Dr. Preminger] This is a great procedure for patients who have lost a lot of weight because many of these patients have a lot of extra hanging skin of the underarm region. This extra tissue really bothers them and can actually interfere with hygiene, doesn't look great in clothing and can hang over the bra. One of the amazing things that we can do is remove that tissue and rotate it in to fill the upper pole of the breast which is really where you want that fullness. So what we are able to do is remove the fullness where you don't want it and use the tissue where you do want it. The results are permanent.