Necklift
Get the infusion of youth and vigor you have been missing by eliminating loose skin and fatty deposits in the neck and jawline.
New York City plastic surgeon Dr. Preminger can help people with questions about necklift determine whether they are good candidates.
A smooth, clearly defined jawline is one of the hallmarks of youth and good health, but it is also unfortunately among the most noticeable casualties of the aging process. Sagging skin and the accumulation of unwanted fat deposits in the neck area can combine to create what many refer to as a "turkey neck."
If you are interested in reclaiming the smooth neck skin of your youth, or if you have always had fatty deposits in the neck area, leading Manhattan plastic surgeon Dr. Preminger can help. Necklift surgery is an outpatient cosmetic option for those who are ready to make a significant change in this area.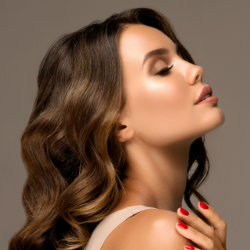 Preparing for necklift surgery
There are many misconceptions about all types of plastic surgery. So anyone considering necklift surgery should schedule an initial consultation to discuss goals, expectations and potential risks of the procedure.
Generally speaking, one of the best candidates for necklift surgery are individuals between the ages of 30 and 70 who are in good health, who have excess areas of skin beneath the chin that are exhibiting decreased elasticity, and those with excessive fat accumulations in the neck area that have caused a loss of definition.
Dr. Preminger will take a comprehensive medical history to assess overall health, existing medical conditions and any known drug allergies.
Prior to a necklift operation, it is important for patients who smoke to quit in order to facilitate proper healing. It is also advised that certain medications be stopped in advance of the surgery to stave off the risk of excessive bleeding. Dr. Preminger will take every possible step to ensure that you have one of the best possible experience both during and after your neck lift procedure.
Great results from necklift surgery
Sagging neck skin, wrinkles and double chins have an undeniable aging effect on men and women alike. A necklift can reduce pockets of unwanted fat, rid the neck of drooping muscle bands and tighten slackened skin. The end result is a defined, rejuvenated appearance that you may have feared was impossible to reclaim.
Distinct improvements in appearance are visible almost immediately following a neck lift, though the final results may require another few months to fully emerge. Scarring resulting from these procedures is minimal, and frequently imperceptible.
What makes the necklift particularly desirable for many is the fact that the beautiful results it routinely produces often last for years and years.
Necklift Surgery in Manhattan
If the passage of time has begun to take a toll on your neck and jawline, a necklift procedure performed by NYC plastic surgeon Dr. Preminger can restore contour and definition to the neck, making a dramatic difference in your facial appearance.
To schedule an initial consultation to discuss the impressive possibilities, contact our New York City office by calling (212) 706-1900 or contacting us online.