Male Tummy Tuck
Losing the battle with your midsection? Win the war with a waist-flattening abdominoplasty.
Male tummy tucks are exploding in popularity in New York City. See why.
Male tummy tuck in NYC
Men who wish to enhance abdominal definition, eliminate stubborn love handles, or have a flatter and more chiseled physique are choosing male tummy tuck surgery to tighten their cores.
One of the great myths in America is that diet and exercise can help anyone achieve a perfect body. The reality is that diet and exercise can take a person a long way, but there are circumstances where the skin and tissues have stretched so far that they can only be repaired with surgical assistance. Men who have had gastric bypass or who have lost an extreme amount of weight often find this to be true.
Dr. B. Aviva Preminger has extensive experience performing male plastic surgery in New York City, and the male tummy tuck is one of the most popular procedures she is asked to perform.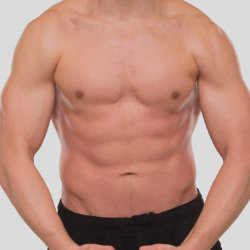 Preparing for a tummy tuck in Manhattan
Dr. Preminger welcomes all patients to her office for a consultation to discuss goals and expectations for tummy tuck surgery. She will go over risks, procedural steps, and discuss recovery. Measurements will be taken and medical history will be covered. It is important to disclose family medical history and past conditions so the surgeon can take added steps to ensure your safety.
The best candidates for surgery have finished losing a lot of weight and are within 10% of their ideal BMI. However, individuals who are done trying to lose weight through diet and exercise can combine a male tummy tuck with liposuction for similar results. If your chief goals are to eradicate that little bit of excess skin and fat that you've suffered with for years, then male plastic surgery is an ideal solution.
The rate of complications for male tummy tuck is extremely low (0.02%). Certain patients are at an increased risk for pulmonary embolism (blood clots), which could travel to the lungs and interfere with breathing. Patients with diabetes, poor circulation, liver / heart / lung disease, or a history of blood clots have a higher risk of infection and adverse side effects. Patients with uncontrolled diabetes, untreated high blood pressure, a history of chest pain, or erratic heartbeats have the highest risk for male plastic surgery.
A good surgeon like Dr. Preminger will do everything possible to mitigate these risks. For instance, it's been found that having patients get up and walk around following surgery helps prevent blood clots. Wearing compression garments post-op is another preventative measure many plastic surgeons advocate.
When can you see the results of a male tummy tuck?
There will be a small, low-lying tummy tuck scar that will continue to fade over a period of roughly two years. Dr. Preminger gives her patients specific instructions on how to reduce the appearance of your scar further.
The results are visible within three months, once swelling subsides, and they are long-lasting, provided that you follow through with healthy eating and exercise to maintain a stable weight.
NYC Male Plastic Surgery
Dr. B. Aviva Preminger is an Ivy League educated, board-certified plastic surgeon who has trained at some of the most prestigious medical centers in New York City, including New York Presbyterian, Sloan-Kettering Memorial, Columbia University, and the Hospital for Special Surgery. Her plastic surgery prowess is so well-respected that she teaches students a course on ethics and publishes award-winning articles in peer-reviewed medical journals.
Dr. Preminger lends a compassionate ear and a skilled hand to help you achieve your aesthetic goals quickly and effectively. For an expert level of care, contact our office for a male tummy tuck consultation in her Park Avenue suite or call us at (212) 706-1900.