Male Facelift & Necklift
Your face is the first impression you give others - but for many men, crow's feet, wrinkles, and sagging skin send the wrong message.
More New York men are choosing facelifts and necklifts than ever before. Find out why.
Male facelift & necklift in NYC
Men who wish to look as young as they feel can book a consultation for a male facelift with Dr. B. Aviva Preminger in Manhattan, New York. Want to reclaim a more youthful, powerful jawline? Tired of dangling "turkey neck" flaps making you seem years older than you are? A male necklift might be the solution.
Starting in their late thirties, men may begin to notice fat accumulation and loss of definition around the chin and jawline. By their late forties and early fifties, the neck muscles begin to loosen, gravity takes its toll, and men begin to look much older, with vertical bands and visible sagging in the neck region. Genetics, smoking, alcohol consumption, and sun exposure contribute to signs of aging.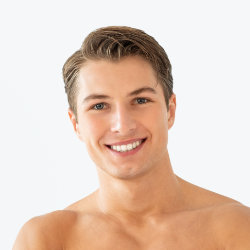 Preparing for a facelift and necklift in New York
The best way to learn more about how a male face and necklift may help you is to sit down with a plastic surgeon and discuss your health history and goals. Dr. Preminger will explain the different procedures you may be eligible for, as well as what you'll need to do to prepare for the recovery.
During your consultation, the surgeon will examine your face, take photographs for your medical records, and ensure that you have realistic expectations about what results to expect from your procedure. As with any surgery, risks include: reaction to anesthesia, infection, bleeding, pain, and swelling. Tightness, tingling, burning, pulling, and numb sensations are possible complications that should resolve within a few weeks.
Dr. Preminger will discuss steps taken to reduce complications for your surgery.
The best candidates for a male facelift and necklift are those who have:
Firm, elastic skin
Strong bone structure
An age of forty or beyond
A weight close to one's ideal BMI
Good overall health
Results to expect from male facelift & necklift
Positive changes are visible right away, but it's usually around the one-month mark that patients begin looking and feeling their best. You can return to work in one or two weeks, and resume more strenuous activity in four to six weeks. Subtle changes will continue to take place over the next few months. By six months, your final look will be evident. The results should be long-lasting (about eight years), but are best preserved by following a healthy diet and lifestyle. Weight fluctuations by 10 pounds or more can decrease the longevity of your results.
Neck and Facelift for Men in NYC
Dr. B. Aviva Preminger is an Ivy League educated, board-certified plastic surgeon who performs all procedures in an accredited surgical facility. She has published articles in peer-reviewed journals, lectures students on plastic surgery ethics, and has years of experience performing cosmetic procedures on men. Call (212) 706-1900 or contact us online for more information about scheduling a male facelift and necklift in New York.