Liposuction
Stubborn body fat is no match for liposuction, a safe and permanent solution for re-shaping the body's contours.
Leading Manhattan cosmetic surgeon Dr. Preminger explains what liposuction can and cannot do.
Liposuction in New York
Liposuction is a body contouring procedure that extracts fat cells from targeted areas of the body – including thighs, waist, buttocks, upper arms, neck and more – to help you achieve a sleek, toned appearance. While diet and exercise are important aspects of any healthy lifestyle, there are certain areas of the body that simply do not respond as well as hoped. Fortunately, for men and women seeking additional help sculpting the thighs, midsection or buttocks, liposuction can prove to be a solution that is safe, effective and able to provide impressive results in a short period of time.
Dr. Preminger performs several liposuction techniques in her Manhattan surgical suite, helping patients rid themselves of stubborn body fat.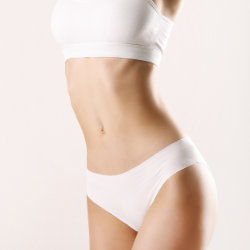 Preparing for liposuction
Good candidates for liposuction should generally be within 10 percent of their ideal body weight before the procedure. Liposuction is intended to reduce unsightly areas of fat that have been unresponsive to conventional weight loss techniques and is not a means to shed large amounts of excess weight.
In advance of your liposuction procedure, you will be asked to disclose any and all medications or supplements you take on a regular basis in order to prevent harmful interactions.
Dr. Preminger will take your complete medical history and rule out potentially dangerous conditions such as high blood pressure, pulmonary problems, diabetes, a suppressed immune system or coronary artery disease. Any sensitivity to anesthesia will also be addressed, to ensure that you are able to safely undergo the procedure.
Long-lasting results
Though liposuction is permanent, the positive results still require maintenance. A healthy diet and exercise regimen is essential to keep your desired appearance and to maintain an appropriate weight.
Liposuction is a proven technique for getting rid of stubborn fat deposits that have not been reduced by traditional methods and which have prevented you from achieving the figure you desire.
Buttock lifts and tummy tucks can be done alongside liposuction to achieve truly transformational outcomes. It is also possible to take advantage of fat deposits extracted through liposuction by using them in a process referred to as autologous fat transfer. This method injects your own fat into other areas of the body marked by unsightly wrinkles and fine lines, imparting a fresh, youthful look.
Manhattan Liposuction Consultations
If you have been frustrated by an inability to improve certain diet-resistant areas of your body, you are in good company. To learn more about liposuction and body contouring procedures, contact Dr. Preminger's NYC practice at (212) 706-1900 or contact us online to arrange a private consultation.