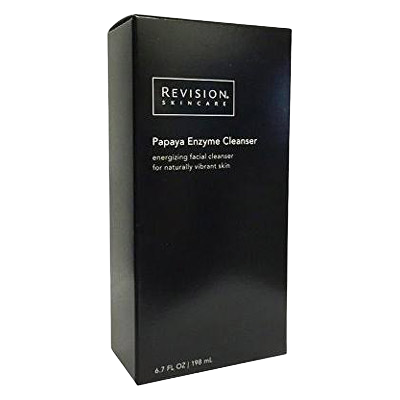 For naturally vibrant skin, this energizing facial cleanser will do just that as it gently polishes away dead skin cells, and nourishes the skin with vitamins and minerals. This face wash is so gentle that is cleanses and purifies your skin without stripping it of natural moisture.
As we age, our skin loses its ability to exfoliate skin cells naturally. With that comes skin that is dehydrated and dull. Brighten your face with Revision Papaya Face Wash, a gentle exfoliating cleanser.
Its key ingredient, Papain – a natural extract of papaya provides a mild exfoliation to give you vibrant looking skin. Salicylic Acid provides a smoother complexion by exfoliating the skin. Enrich your skin with antioxidants and soothing properties of Bixa Orellana Seed Extract.
Suitable for all skin types. To use, apply a dime-sized amount to hands, gently rub in circular motions over the surface of your face (avoiding the eye area). Afterward, rinse and then pat dry. Designed to be used twice a day.