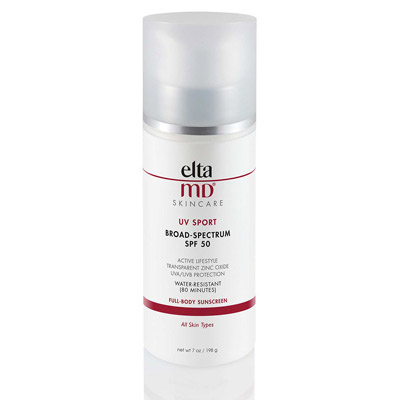 Enjoying the sunshine can be fun, but it is important to protect your skin against sun damage caused by UVA/UVB rays. Whether you swim, ski, golf, run, or otherwise enjoy the outdoors, protect your skin with Elta MD UV Sport Broad Spectrum SPF 50 for your entire body.
This water-resistant formula won't rinse off in the water or drip in your eyes when you sweat. Its antioxidant properties help fight the signs of aging by combating free radicals from ultraviolet and infrared radiation.
Free of oil, parabens, and fragrance, this noncomedogenic sunscreen is perfect for all skin types. Can be applied to wet or dry skin. For best results, apply liberally over entire body approximately 15 minutes before sun exposure. Reapply every 80 minutes or at least every 2 hours.