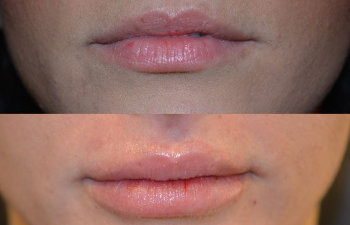 Your lips are an invaluable facial feature. Not only do they add beauty and convey emotion, but they also aid in proper speech and swallowing. Unfortunately, the lips are not always perfect in shape, size and proportion. While there are many aging adults who want the fuller lips of their youth, there are others who were born with lip abnormalities that bring both aesthetic and functional consequences.
Dr. Aviva Preminger s a reputable lip cosmetic surgeon who is able to repair and reconstruct a number of lip defects. Using her artistic eye and trained precision, Dr. Preminger can create the full and balanced lips you always wanted or lips that may have been damaged from an injury or illness. There is a full menu of cosmetic procedures available to change your unsightly lips, including fat grafting, lip augmentation, lip enhancement and lip reduction. Whether you have a minor defect that has always bothered you or a severe abnormality that limits normal speech, we can deliver the compassionate, patient-centered care you deserve and the state-of-the-art surgical techniques you need when it comes to lip reconstruction in New York.
Cosmetic Repair for Lip Defects
There are a number of reasons why patients need lip reconstruction, all of which are either uncontrollable or unavoidable. Dr. Preminger repairs lip defects that were caused by the following:
Congenital malformation
Injury or trauma
Facial nerve paralysis
Removal of cancerous lesion
Following cleft lip repair
Previous cosmetic lip surgery
Regardless of the cause or severity of your lip deformity, it is important to approach lip reconstruction with careful consideration to the unique needs of each patient. Lip reconstruction can involve a number of procedure techniques that can correct aesthetic flaws, functional issues or both. The timing of your surgery is important and strongly influenced by the type and cause of your lip defect. Traumatic injuries to the lip should be addressed as soon as possible. For children who have had cleft lip repair as a baby, a lip reconstruction is often performed when the child is older.
To learn which surgical methods your lip reconstruction may entail, please schedule a consultation with Dr. Aviva Preminger in New York. We understand the importance of providing sustainable and natural-looking results for the lips and other delicate features of the face.