Ear Lobe Repair
Stop feeling self-conscious about earlobes damaged through stretching, gauging, earring use, deformity or injury.
Is earlobe repair surgery right for you? Contact NYC cosmetic surgeon Dr. Preminger.
Earlobe Repair in NYC
Ear lobe surgery is one of the most common ear plastic surgery procedures requested by New Yorkers. A person's earlobes greatly impact the proportions and aesthetics of the face, as well as being an erogenous zone and a place to hang jewelry.
Earlobe reconstruction surgery can repair:
Saggy ear lobes from years of wearing heavy earrings
Unsightly ear lobes from improper piercing technique or infection
Natural congenital deformities in the shape and size of the earlobe
Traumatic injury to one or both ear lobes resulting in deformity or scarring
Enlarged holes from intentionally stretching or gauging the ears for fashion
Both men and women are seeking earlobe repair in growing numbers for a variety of reasons. For some, earlobe reconstruction is sought to improve physical appearance and self-esteem due to genetic deformity, sudden trauma or improper ear piercing. For others, the effects of "teenage rebellion" are corrected to meet with workplace standards and to enhance employability.
Check out earlobe surgery before and after photos to the right to see Dr. Preminger's great results!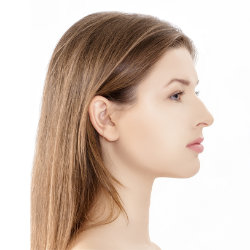 Ear Lobe Surgery Preparation
Patients who are interested in earlobe repair will first visit Dr. Preminger's Manhattan office. After filling out paperwork with details of general medical history and background, patients receive one-on-one consultation time with Dr. Preminger.
This meeting gives patients a chance to further assess Dr. Preminger's credentials and have any questions about the procedure answered. Dr. Preminger will share photos and stories of realistic results that can be achieved through earlobe reconstruction surgery, as well as discuss the procedure, recovery and any associated risks.
Earlobe Repair Procedure
The earlobe repair procedure is a fairly simple one, performed in Dr. Preminger's office under local anesthesia. First, Dr. Preminger removes any overstretched or damaged skin. Next, the lobe is stitched back together with dissolvable stitches to form a natural shape.
Methods vary, but most surgeons use clamps and vertical mattress sutures to minimize the risk of notching. Lastly, the wounds are dressed with antibiotics and sometimes gauze (when extensive repairs have been done) that remain in place for several days to decrease risk of infection.
Split Earlobe Repair
Slightly ripped earlobe repair may involve just a few stitches and can often be re-pierced (if desired) on the same day as surgery. By contrast, fully torn earlobe repair will require removing the damaged ear piercing tract, suturing inner and outer layers of skin and fat tissue together, and waiting for the wound to heal before future piercings are considered.
Recovery from earlobe tear repair can be very fast or take several months for full healing, depending on extent of damage. As part of an earlobe hole repair procedure, Dr. Preminger may place a "temporary spacer" stitch to reserve a place for future earrings, which can be worn after about six weeks.
Earlobe Repair Results
Final results could take up to one year to be seen if there was really extensive damage. However, 96% of patients on the Real Self website give earlobe repair surgery a "Worth It" rating. Whether they are "not 15 anymore — 30 with 2 kids," a "reformed hipster," the victim of "incorrect piercing as a child" or a "business student in dire need of earlobe repair for future career," nearly all of the 75 patients who had the procedure done within the last two years expressed satisfaction with their natural-looking results.
For more information on ear lobe repair options, including earlobe reduction surgery, please contact the Park Avenue Manhattan office of Dr. B. Aviva Preminger to schedule a private one-on-one consultation.