Eyebrow Lift
A forehead lift creates a well-rested, more youthful appearance marked by a relaxed expression with bright, alert eyes.
Questions about brow lift surgery? Get answers from Manhattan plastic surgeon Dr. Preminger.
Brow Lift in New York
A brow lift, also known as a forehead lift, refreshes the upper face by correcting drooping skin, eliminating deep forehead wrinkles and a heavy-looking eyebrow that can age us well beyond our actual years. The result: a well-rested, more youthful appearance marked by bright, alert eyes.
Aging and continued sun exposure both take a toll on the elasticity of our skin, which can leave us looking tired or even angry as vertical frown lines develop and repeated facial expressions create noticeable wrinkles in the forehead. As the brow drops with time, the upper eyelids also begin to sag. A forehead lift, which is often accompanied with upper eyelid surgery, opens up the eye area for a revitalized look.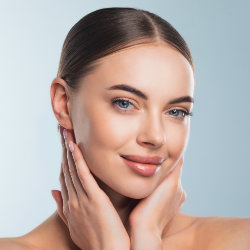 Planning for a brow lift
When evaluating patients for a forehead lift, Dr. Preminger looks at the amount of excess eyelid skin, hairline and eyebrow position to determine one of the best approach for treatment. Younger patients may also be ideal candidates for the procedure if they have an inherited lowbrow that creates excessive eyelid hooding.
During the initial consultation, patients may be asked to bring in old photos of themselves that illustrate the ideal position that best suits their face. Dr. Preminger will thoroughly review your medical history and perform a physical examination which looks at skin elasticity, texture, facial muscle dynamics and bone structure. In preparation for a forehead lift with Dr. Preminger, patients may be asked to:
Refrain from smoking before and several weeks after the surgery
Avoid alcohol
Adjust current medications
Stop taking anti-inflammatory drugs, aspirin and any natural supplements
Although complications from a eyebrow and forehead lift are very rare, risks include:
Adverse reaction to anesthesia
Scarring
Swelling and discoloration of skin
Infection
Numbness
Elevated hairline
Asymmetry of the upper face
Hair loss at incision sites
Recovery
Following surgery, patients will go home with a friend or relative. Mild to moderate swelling is to be expected for at least one week after surgery, but cold compresses help to reduce inflammation. Please use any prescribed ointments to minimize scarring and avoid strenuous activities for at least three weeks.
Most patients are back to work within seven to ten days, at which time bruising and swelling should be at a minimum. If non-dissolvable sutures were used, these will be taken out about ten days after the lift.