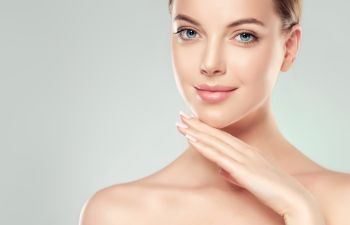 Are you self-conscious about your double chin? A "double chin" refers to excess fat in the submental (under chin) region. This bulge of fat can be especially frustrating since it is not always associated with being overweight. In fact, a double chin can develop due to genetics, hormones or the natural aging process. Regardless of why you have it, however, you should know that there are surgical and non-surgical ways to fix it.
Dr. Aviva Preminger offers two of the most popular options to correct a double chin appearance. Submental liposuction and Kybella injections are both proven to permanently eliminate submental fat cells and help patients achieve a slimmer and more contoured neck and jaw line. Here is a closer look at what you can expect with each treatment to help you determine which is best for you.
What is Submental Liposuction?
Liposuction is considered a surgical treatment that removes fat from your chin by sucking out the fat cells. This procedure involves the administration of anesthesia or general sedation. Incisions are also created below your chin and behind your ear to allow for the removal of excess submental fat. Patients can expect about a downtime of approximately two weeks.
Although submental liposuction comes with some unavoidable risks of surgery, it is a permanent fix for your double chin and one that only requires one treatment or procedure. A successful liposuction produces a sculpted and slimmer neck and chin in just three months.
What is Kybella?
Kybella is a non-surgical solution for excess under chin fat. It involves injections of deoxycholic acid, a substance our body naturally produces to destroy fat cells. Other than some swelling immediately following your injections, Kybella does not require downtime. It can be performed in the office without anesthesia since there are no incisions.
While Kybella is approved by the FDA to permanently destroy submental fat, it does require more than one treatment. Patients typically have two or more sessions to get their desired results, which depends on the severity of your under chin fat. There should be a minimum of two months in between each series of injections.
Schedule Your Consult to Fix Your Double Chin
Is liposuction of Kybella best for your double chin correction? Your personal preference, budget and time will certainly guide your decision. However, an evaluation from a certified facial plastic surgeon is also important. At the office of Aviva Preminger, we will evaluate other factors such as your neck skin. Both liposuction and Kybella require that good elasticity of your neck skin for ideal results. Loose skin after fat removal will likely demand a neck lift.
Call Dr. Aviva Priminger in Long Island today to schedule your consult. We look forward to helping you say goodbye to your double chin and creating a more contoured and confident profile.