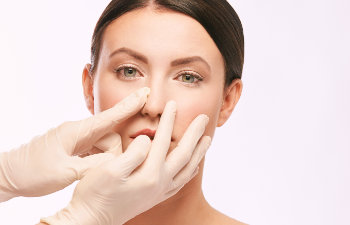 New York City, NY
Rhinoplasty is a surgical procedure that changes the shape, size, and projection of the nose and is commonly referred to as a nose job. According to Harvard Health, about 220,000 rhinoplasties are performed each year. People wanting a smoother ridge or narrower nose often consider getting a nose job so that they can feel more confident about their looks. If you're thinking about getting a nose job, you probably have some questions about the procedure, what to expect, and how to plan for your recovery. We recommend consulting with a board-certified plastic surgeon, like Dr. Aviva Preminger in Manhattan to ensure you are fully informed about the procedure before committing. However, today on the blog, we'd like to share answers to top questions about nose jobs. This information may help you decide if you want to proceed with a consultation.
Is a rhinoplasty a medical procedure?
The goal of a medical procedure is to improve your health. Deviated septums or blocked or restricted airways could impact your health and may require surgery to fix. However, rhinoplasty is solely cosmetic and is not considered to have medical benefits. Therefore, you should plan on paying out of pocket for the cost of your surgery.
Is rhinoplasty painful?
Patients are put under general anesthesia for their procedure. Therefore, they will not feel any pain or discomfort during surgery. However, afterward, when the numbness wears off, it's common to experience discomfort or pain. In some cases, over-the-counter pain relievers are enough to subside discomfort. However, you may be prescribed pain medication under certain circumstances. This decision will be made between individuals and their plastic surgeon and is not always a guarantee in all cases. Additionally, follow your doctor's post-op instructions so that you will have a smoother recovery and experience less discomfort.
Will rhinoplasty make my nose small?
Nose size is certainly of concern for some patients. However, others may be more concerned about the size of their nostrils, boney bumps or ridges in the bridge of the nose, or the projection of their nose tip. Therefore, not all rhinoplasties result in a smaller nose. The goal of a nose job is to help your nose look more proportionate. It's important to discuss exactly what it is about your nose that you want to change so that you will experience a better outcome. Be specific during your consultation. Instead of telling the surgeon, "I don't like my nose." Point out exactly what it is that you want to change. If you aren't sure, your experienced plastic surgeon in New York City, Dr. Preminger, can help walk you through surgical options.
How long do rhinoplasty results last?
In most cases, the results should last the rest of your life, and you shouldn't need any revisions. However, sometimes, patients later decide to have rhinoplasty revision in New York City if they decide to take a more conservative approach to start with. However, your nose will never resort back to the way it was before. The only way to change the appearance of your nose after rhinoplasty is to undergo revision surgery.
Rhinoplasty in Manhattan and New York City
If you're ready to schedule a consultation to discuss getting a rhinoplasty, or you still have questions about the procedure, contact Preminger Plastic Surgery by calling (866) 201-9828 today. There may be more questions you have that are not covered in our blog today, and that's ok! We welcome any questions or concerns that you have. Undergoing plastic surgery is a huge commitment, and it's important that you feel confident about your decision.