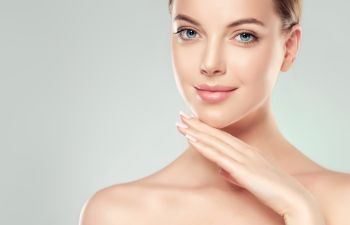 While it may not get as much attention as your eyes, lips or nose, your chin plays a strong role in your overall facial appearance. In fact, many patients don't realize the importance of the chin's projection and contour. A chin augmentation or chin implant procedure can not only bring your facial features into a more attractive proportion, but it can also make a dramatic difference in the neck and jowls. Instead of a neck lift or facelift, a chin augmentation can help the neck look slimmer and even eliminate unwanted "jowls."
If you have a chin that is understated or not balanced with your other facial features, you may consider chin augmentation. During this procedure, the chin can be reshaped or enhanced in size. For most patients, this is accomplished using chin implants. Chin implants can replicate the natural feel and look of your chin and are designed for long-term function and safety.
Male Vs. Female Chin Augmentation
Chin augmentation, or mentoplasty, is an excellent procedure for patients who want to alter the look of their chin. Chin augmentation typically involves placing an implant to improve the projection, but it can also involve adjusting or reshaping the existing chin bone. When it comes to sculpting a more desirable chin, it is important to consider the needs of each gender. For example, a strong chin and jawline is preferred by men while a softer, more feminine chin is desired by women. Regardless of your age, gender or severity of your concerns, you can trust that careful planning and a full facial evaluation go into the preparation of your chin augmentation procedure at Preminger MD.
For a fully balanced and completely rejuvenated look, chin implants are commonly combined with a rhinoplasty and/or facelift procedure. We can help you determine if these additional procedures would benefit you. To schedule your consultation for chin augmentation in NYC, please contact us today. Dr. Preminger is an elite plastic surgeon who welcomes the opportunity to help you achieve your unique aesthetic goals.