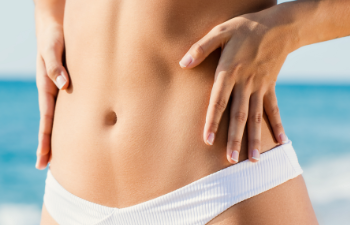 New York City, NY
Changing your body shape may have you seeking a solution different from strenuous exercise routines and popular fad diets. Unfortunately, although those healthy choices may produce positive benefits, they often fail at contouring your abdominal area for that sleek, sexy physique. In some cases, no matter how much you diet and exercise, stubborn fat and drooping skin won't go away. Therefore, New York City's celebrity plastic surgeon, Dr. Aviva Preminger, shares information on the blog today to help you decide if a mini tummy tuck is a solution for you to achieve the toned, contoured figure you desire.
What is an abdominoplasty?
An abdominoplasty or a tummy tuck is a procedure to help sculpt and contour the abdomen area by removing excess fat and sagging skin, as well as tightening the abdominal muscles. The result is a lean, fit abdomen that can be challenging to obtain through diet and exercise alone. An abdominoplasty procedure requires an incision from one hip to the other and another one around the belly button. Most patients experience a procedural time between three to five hours.
A less invasive and complex version of abdominoplasty is a mini tummy tuck. Patients who seek a minor degree of change or that only need the lower portion of their abs "tucked" can opt for a mini tummy tuck, as it focuses on the area below your belly button and involves a smaller incision with none around your belly button. The procedure takes approximately an hour or two to perform.
Who is a good candidate for a mini tummy tuck?
Prime candidates for a mini tummy tuck are patients who don't have too much loose skin, sagging muscle, or excess belly fat. A mini tummy tuck is an ideal treatment for those who prefer not to have extra downtime a full abdominoplasty would require.
What is the procedure for a mini tummy tuck?
Most patients require general anesthesia to ensure they are comfortable during the procedure. First, Dr. Preminger will make a small horizontal curving incision on the stomach's lower area between the pubic hairline and the belly button. The incision allows access to underlying tissues and fat pockets. Next, stubborn excess fat gets removed using liposuction. Then, our skilled plastic surgeon in New York City trims excess skin and tightens the muscles. Finally, Dr. Preminger will close the incision with sutures. Once the procedure is complete, patients undergo monitoring, and if there are no complications, they may return home the same day.
What should I expect for post-procedure recovery and results?
An abdominoplasty and a mini tummy tuck are major surgical procedures, and it will take time to heal completely. Although some patients heal faster than others, the approximate healing time is a few weeks. After the procedure, you can expect swelling, bruising, and regular follow-up visits with our Upper East Side of Manhattan board-certified plastic surgeon, Dr. Preminger, to monitor your recovery process. Additionally, it would be best to avoid strenuous activities after the surgery to prevent injury and poor results. Once the swelling subsides and your recovery is complete, you can enjoy a sleek, contoured abdomen. To maintain your results, Dr. Preminger recommends eating healthy and exercising daily.
Mini Tummy Tuck in the Upper East Side of Manhattan, and New York City, NY
A mini tummy tuck can be the perfect solution for you, especially when diet and exercise fail to give you the body you desire. During your consultation, Dr. Preminger will consider your health history, current medications, and your wishes before finalizing surgical details. If you have questions or are ready to schedule a consultation for a mini tummy tuck in New York City, feel free to call Preminger Plastic Surgery at (212) 706-1900 or request a consultation online today.