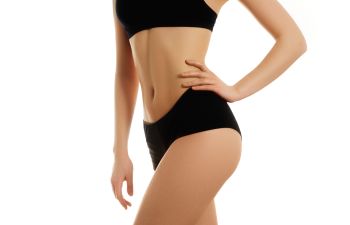 A "tummy tuck" is one of the most well-known procedures in plastic surgery. This body contouring surgery, also called an abdominoplasty, is designed to help flatten and firm the lower abdomen. Ideal candidates for a tummy tuck may have excess fat and loose skin that won't go away despite diet and exercise. While you may assume this procedure is only meant for moms who are struggling to regain their pre-pregnancy stomach, there are many surprising facts about tummy tucks that you should know.
At Preminger MD, we have compiled some answers to your most probing questions. Helping patients know exactly what to expect before investing in plastic surgery is important to us.
#1 A tummy tuck addresses more than loose skin
This procedure isn't just about "tucking in" loose abdominal skin. It goes further to also address fat bulges as well as any stretched out or separated muscles in the abdomen. During surgery, these muscles are sutured together like a corset to flatten and strengthen the abdominal wall. This tightening of the muscles is what creates the most dramatic effects on contouring your abdomen that cannot occur with diet and exercise. Stubborn fat deposits are also targeted and removed from the front and sides of the abdomen during a tummy tuck.
#2 A tummy tuck is not just for women
While a tummy tuck is most commonly part of a "mommy makeover" for women, there is no reason why men can't also take advantage of this effective body contouring procedure. Men often consider abdominoplasty after extreme weight loss or fluctuating weight that has left them with unsightly folds of saggy abdominal skin. It is ideal for males that have earned their "six pack abs" but just need them revealed behind excess skin and fat.
#3 A tummy tuck offers more than cosmetic benefits
Did you know there are health and wellness advantages to having a tummy tuck? Beyond the slimmer and more attractive stomach you'll achieve, a tummy tuck can also do things like improve posture, reduce back pain and even relieve symptoms of urinary incontinence in some women.
#4 A tummy tuck doesn't move your belly button
It's true that the belly button undergoes a significant transformation during tummy tuck. However, it isn't your actual belly button that is moved during surgery but rather the skin around the belly button
#5 A tummy tuck doesn't make a future pregnancy unsafe
While getting pregnant after your tummy tuck will likely undo some of your results, it is still perfectly safe. Pregnancy after abdominoplasty is not only possible but poses no threats to mother or baby.
Have more burning questions about tummy tucks? We want to answer them. Book your consult for a tummy tuck or other body contouring procedure at Preminger MD today.