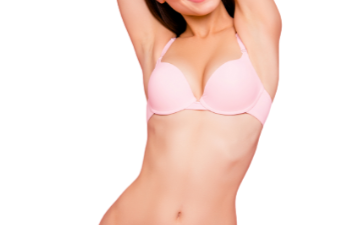 The most intriguing and exciting definition of BodyTite is that it's being considered as the "next best thing to a surgical tummy tuck." This minimally-invasive body contouring procedure is ideal for patients who want to get rid of a stubborn bulge around their waistline, but they do not want to undergo the risks, costs and downtime of surgery. Instead of the common "tummy tuck" surgery, men and women can choose BodyTite and benefit from 40% skin tightening and fat depletion with little downtime.
How Does BodyTite Work?
How does fat depletion and skin tightening co-exist in a non-surgical treatment? BodyTite relies on radio-frequency assisted lipolysis (RFAL), which delivers a rapid blanket of heating on the complete soft-tissue matrix. Thermal RF energy can help melt away fat cells while also stimulating new collagen production in the skin. When used on the abdomen, BodyTite acts as a tummy tuck with the ability to tighten the skin as well as eliminate fat volume.
Don't worry; BodyTite is very safe. This technology includes advanced features and built-in safeguards, such as impedance monitoring, power cut-off and audible feedback, to help ensure patient safety throughout the procedure.
Ideal for Moms
If you have struggled to get rid of your post-baby weight around your belly, BodyTite could be the perfect mommy-makeover for you, but without all the downsides of surgery. As a busy mom, you'll appreciate that BodyTite body contouring doesn't involve a lengthy downtime, surgical expenses or stitches and scarring. You can even take advantage of BodyTite under local anesthesia.
Ready to fit back into the jeans you did before pregnancy? Call Preminger MD to learn more about how BodyTite may help. We love giving women opportunities to achieve a more confident body with as few sacrifices as possible.