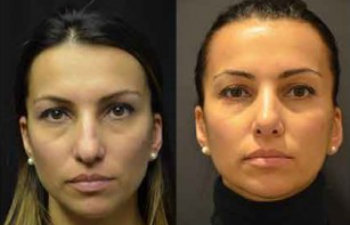 Your nose is the most prominent feature of your face, and one that provides essential breathing capabilities. It comes to no surprise, therefore, that trauma to the nose can bring devastating consequences to the appearance of the nose as well as its function. Fortunately, an esteemed facial plastic surgeon who specializes in nose surgeries, can address nasal trauma that demands functional and cosmetic reconstructions.
A plastic surgeon's approach to nasal fracture treatment may involve surgically restoring the structural and functional features of your nose while also providing a natural-looking and attractive cosmetic repair. Not all broken noses will need surgical repair. A qualified plastic surgeon, however, will use precision and artistry to carefully realign the delicate combination of cartilage and bones of the nose after trauma. In some cases, the structural repair and cosmetic correction can be done at the same time. Regardless of the schedule or type of nasal procedure, your result can be a nose that is balanced, attractive and restored to its pre-injury state.
If you have broken or fractured your nose, time is of the essence. Neglecting to repair your nasal damage could result in long-term functional and cosmetic issues. In fact, nasal fractures should be treated within the first 7 to 10 days, or before the bones heal in an unnatural position. For fractures that involve shifting or displacement, a closed rhinoplasty approach can be used. This may require a cast or splint but no incisions. An open rhinoplasty can also be performed for those that have suffered a severe nasal fracture.
At the office of Dr. Aviva Preminger, we are equipped to offer a number of nasal repair techniques to address your specific concerns. Not only do we offer primary rhinoplasty for adults and teens, but we also provide a complete list of functional repairs such as deviated septum treatment and nasal collapse. Dr. Preminger understands the intricate features of the nose, both externally and internally. This ensures your nasal fracture treatment produces optimal aesthetics as well as full restoration of your nasal airways.
To schedule your nasal fracture surgery in New York City, call Preminger MD Aesthetic Plastic Surgery Center. We can handle all types of concerns and injuries related to the nose with an exceptional level of skill and care.