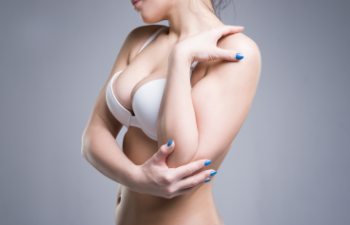 New York City, NY
Are you dissatisfied with the appearance of your breasts? If so, you're not alone. Before the pandemic, nearly 400,000 women underwent breast augmentation or a breast lift to address their aesthetic concerns. Perhaps you are certain that breast augmentation is the answer, or would you benefit more from a breast lift? In some cases, patients may opt for both procedures to get the best results. In this article, our Ivy League-educated plastic surgeon in Manhattan, Dr. B. Aviva Preminger explores the difference between these two procedures to help you decide which one is right for you.
Here's what you need to know about breast implants
Breast augmentation is a surgical procedure that uses implants placed inside the breasts to create larger, fuller breasts. Dr. Preminger uses implants made of either saline or silicone but also offers Gummy Bear implants. Implant placement can impact the shape of your augmented breasts, and implants may be placed above or below the pectoral muscle. The result of breast augmentation increases the volume, firmness, and size of the breasts, although it does not address significant drooping or sagging. Therefore, some patients opt for augmentation and a lift for the best outcome.
Get the facts on breast lifts
Breasts naturally lose their firmness and volume as you age, a process that can be accelerated by motherhood and breastfeeding. Clinically known as a mastopexy, breast lifts are ideal for addressing breasts that sag or droop. This procedure elevates the breasts, restoring the natural, upward curve from the patient's youth. A breast lift also may raise the nipples or decrease their size, but will not change the fullness, size, or width of the breasts.
How do you know if a breast lift is right for you? If your nipples droop below the natural crease of your breast, you're an ideal candidate for a breast lift.
When should you combine a breast augmentation with a breast lift?
Enhancing the appearance of your breasts often may mean you have more than one goal. Let's say you want to increase size and volume while also elevating the breasts. In this case, pairing a breast lift with implants may be ideal. Your breasts will appear higher on the chest wall while appearing fuller, bigger, and creating a more balanced profile. If you decide to combine these two procedures, you can have the perky, sensual bustline you enjoyed in your youth—or maybe the one you always wanted but never fully developed.
Is breast enhancement right for me?
Given the numbers on breast enhancement procedures from the American Society of Plastic Surgeons, you can see that many women choose this type of surgery. What drives that decision?
Each person is unique and has their own motivations, but some of the most common reasons include:
Changes in breast appearance due to weight gain or weight loss
Differences in shape or size between the two breasts
Sagging or other changes due to aging
Illnesses, including cancer
Breast changes after pregnancy or nursing
Breast Augmentation and Lifts in Manhattan
As a mother herself, Dr. Preminger understands the motivations that lead to breast enhancement, and this is one of the specialties of her practice. Make an appointment at our boutique-style office, located on the Upper East Side of Manhattan, today by calling (212) 706-1900.